Cover Image: Paige Hernandez
What a season, unlike any other, 2020-2021 was. Thank you for joining us virtually, on demand and outdoors this past year. We couldn't have done it without you. How many Ovations' events did you experience? 

Daniel Bernard Roumain at Performances in Our Parks, Oct. 2020
OCTOBER 2020
We couldn't gather in our usual spaces but we could gather outside. Our first in another new series, Performances in Our Parks, featured violinist and composer Daniel Bernard Roumain in a series of pop-up, flatbed truck performances around Portland. Each of these innovative, safely-distanced outdoor experiences featured local Maine artists with Daniel, and on a beautiful, sunny fall day brought us all together to experience the joy of live music in new ways.
And since we couldn't bring thousands of school students to Merrill for our School Time Performances, we created new ways for students, their teachers and families to engage with theater with the Letter Sized Little Theater Activity Kit, which allowed them to build their own mini-Merrill stage and create your own plays at home.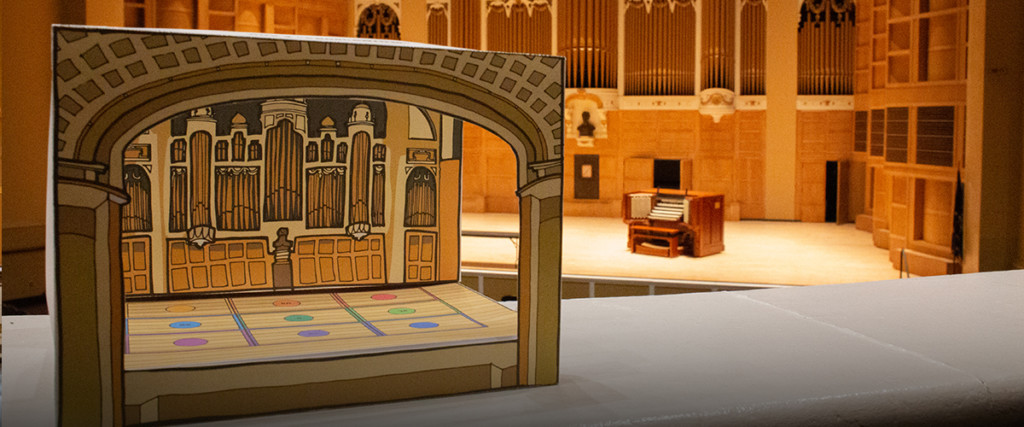 Mini Merrill activity set pictured on the Merrill Auditorium stage, Oct. 2020
SEPTEMBER 2020
In the first of several collaborations with Indigo Arts Alliance, we kicked off the season with Seeking Resonance "Welcome Home" (an introduction to the artists and performances to follow in this exciting series). From stories of migration to diasporic art forms, we invited you to travel the world with the many Black and Indigenous peoples, cultures and artistic expressions that make up our global community. Together, we explored our deep need to find home: a space and place that makes us feel whole – where we feel joyful, safe, valued and loved.
NOVEMBER 2020
Keeping up Ovations' strong presence with our young people and leading up to election season, we invited young audiences to join the movement that changed the Constitution in its fight to add the 19th Amendment with a virtual presentation of Living Voices: Hear My Voice.
Next, we had a great time hosting a virtual watch party with dancers from FLEX AVE. showcasing Flexn, a dance form developed from various Jamaican street dance styles into a distinct art form that has spread across the globe and been embraced by the pop mainstream. 
To finish November, Ovations again partnered with Indigo Arts Alliance for Sacred Resonance, world premieres of works by three Maine artists, bringing them to the global virtual stage as part of the Kennedy Center's Arts Across America series.

VOCES8 Holiday concert and pre-talk with the artists, Dec. 2020
DECEMBER 2020
We didn't want to lose the beautiful music of end-of-year holiday traditions, so we finished the year with the elegant eight-voiced choral ensemble VOCES8, who shared a beautiful holiday program with us all from their home in Britain, thanks to the local sponsorship of Great Diamond Partners.
JANUARY 2021
'New Year, New Works' launched Ovations' new year with the introductions of our Maine commissioned artists and their new works in development. Culture, music and theater collided in bite sized virtual experiences to move all ages, crafted by world-renowned educator and performer Paige Hernandez in Paige and Friends!. Five Days with Step Afrika! filled our screens and classrooms with percussive dance styles practiced by historically Black colleges and universities. And Maine musician Samuel Jamesinterwove music, performance, Black American history and a few life lessons in a virtual multimedia tale, the Story of Tiny Bill McGraw for audiences young and old. 

Ice Dance International at the Rink at Thompson's Point, Feb. 2021
FEBRUARY 2021
Performances in Our Parks returned with Ice Dance International's Solstice at Thompson's Point. This family friendly piece took the audience on an adventure in a magical winter wonderland. Families gathered in the cold fresh air with hot chocolates in hand, to take in these special performances, and even had the chance to virtually meet two-time United States Ladies Champion skater Alissa Czisny, as she shared the secrets to her spectacular spins and a career on the ice.

POP 90 live from Merrill Auditorium, Mar. 2021
MARCH 2021
Our partnership with Indigo Arts Alliance continued with Seeking Resonance: TowardBeing Future Beings, a sweeping virtual conversation on contemporary art making with a dynamic group of North American Indigenous artists, including renowned Yup'ik artist and choreographer Emily Johnson who will return to Portland Ovations to continue development of her newest performance. At the end of the month, POP 90 celebrated Ovations' 90th year and brought us back to the Merrill stage with a dynamic virtual/live benefit event featuring artists and performances live, from the stage to your homes.

GlobalFEST performance and post-talk with Nedjim Bouizzoul of DakhaBrakha, Apr. 2021
APRIL 2021
April was Ovations' International Month. We took a tour of the world with two unique virtual programs bringing far-flung artists – and their favorite recipes – directly to you. One Night of globalFEST, generously sponsored by Coffee by Design, gave audiences the opportunity to experience extraordinary artists from all over the globe, while the Fauré Quartett joined us from Germany, offering their favorite recipes for guacamole and piña coladas as we made important connections between food and culture. 

Maine dancer Riley Watts previews 'Hour Wolf' at Maine Artist 'First Looks', May 2021
MAY 2021
Our 'First Looks' series finished the 2020-2021 season, bringing back our commissioned Maine artists for virtual work-in-progress performances and discussions. Supported by the Downeast Group at Morgan Stanley, each week one of these artists and their creative collaborators shared excerpts of their new works in development and engaged in conversations with you, our audiences.
Ovations' 2020-2021 season was indeed unforgettable, as together we solved the challenges of how to gather and share performance experiences during a year-long pandemic. We can't wait to gather with you in person again soon. Please join us on June 15 for Screen to Stage to see what's coming up next.

Music will once again fill Merrill Auditorium. We will be wowed by dance at Westbrook Performing Arts Center. Broadway will return, giving us all something to smile about in the fall. And we will continue to use technology and the skills we learned during the pandemic to increase access to the arts in Portland.
Thank you for being a part of it all. 
The following two tabs change content below.
Latest posts by Katie Day (see all)