What an unforgettable night! Being back on stage at Merrill, reveling in the beauty of that space with artists working together LIVE … and you were there, too, only not in your usual red velvet seats.
And still: your dedicated support as well as the enthusiasm of so many local businesses and others made POP 90 not only unforgettable but impactful. The celebration was something completely new for Ovations – part live, part broadcast, and part pre-recorded. Everyone came together to create something truly special. Art is always a collaborative process, and never more so than with POP 90.
A big thanks to …
Our POP Star Hosts and local business sponsors for making it all possible. Your generous commitments made possible our mission to securely provide wider access to this event for all.
Paige Hernandez and Nick tha 1da for kicking off the pre-party with entertainment, music and even a little Ovations' 90th-year trivia.
The many local businesses that discounted or donated items for our fabulous POP Party Bags and online auction.
The artists and community members who recorded testimonials, amplifying our mission and partnerships.
Our emcees, business leader and performance poet Kerem Durdag and Sara Juli, renowned dance maker and comedian.
And finally thank you to all our participating artists – Daniel Bernard Roumain, Kenneth Kellogg, Bridgman | Packer Dance, and Cherry Lemonade – who inspire us all, every day.
In the same way, the impact of this event on our communities will now continue to reverberate. The funds raised will allow students to experience and learn through the performing arts, providing new ways to ensure students maintain access to the diversity of experiences that only Ovations can bring. POP 90 also ensures Ovations' capacity to continue to support Maine artists as they create new performances – all of which is vital to a return to a thriving and vibrant cultural scene.
The power of live performance is real. The joy of coming together for a shared experience is magical. The artistry in our community and beyond is inspiring. We are so thankful to you all who helped bring this event to life and participated in the celebration of 90 years of Ovations. Thank you.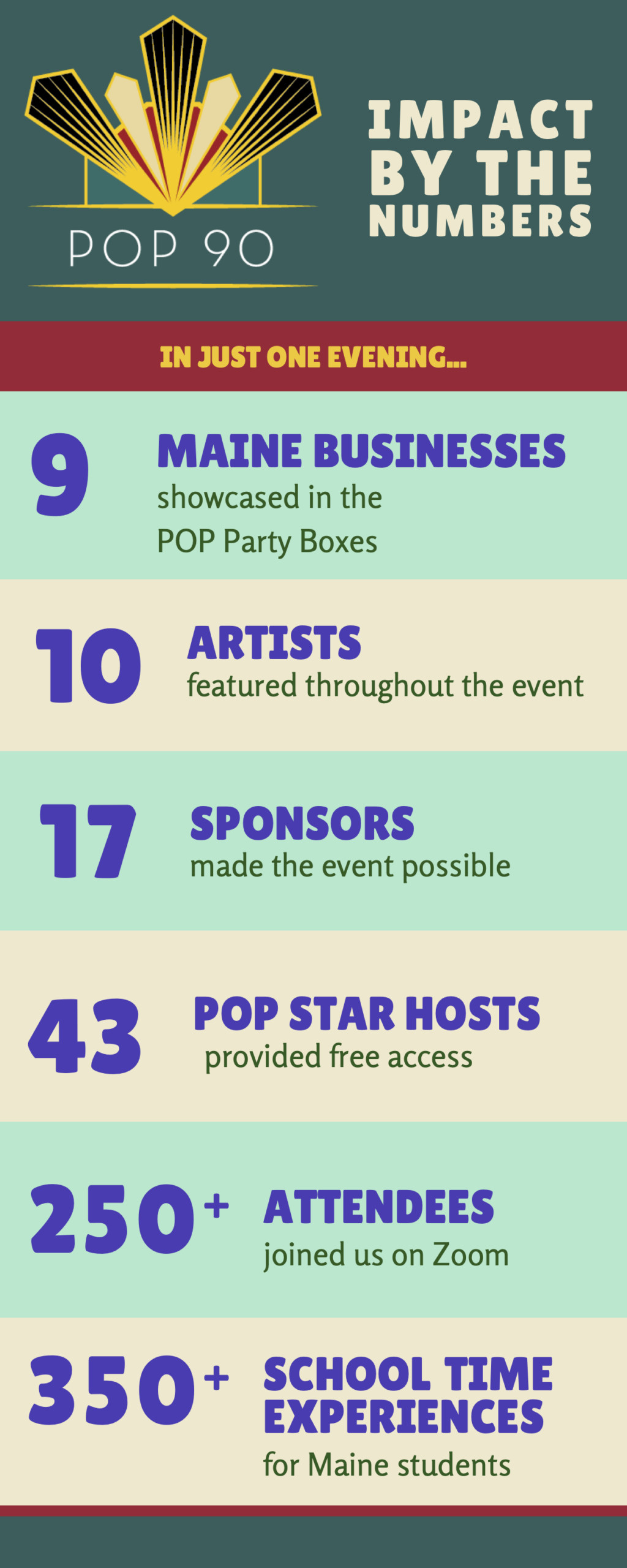 Our POP Star Hosts
Richard Abramson
Justin & Rachael Alfond
Karin Anderson & Stephen Fisk
Stephanie Brown
Susan Bruce & Frederick Hauck
Gerard Conley
Stephanie Cotsirilos
Daniel Crewe
Daniel DeSimone & Melora Gregory
Marlene D'Souza-Dye
Peter Eiermann & Sara Struever
Peter Genova
Ellen Grant & Kevin Carley
Jeanne Handy
Heidi Hansen
Tim Hoechst
Carolyn Hughes & Darrell Pardy
Jamie Isaacson & Kris Lape
J. Spencer & Emily Jones
Felicia Knight & Towle Tompkins
Mary Allen Lindemann
Peter Milliken & Linzee Weld
Bobby Monks & Bonnie Porta
James T. Morgan
Ms. Susan Morris
Eileen & John Munroe
Susan Murr
Mary Nadolny-Rappold
Mary Noyes
Dan Nuzzi & Dana McEnroe
Cindy & John Orcutt
Tania & Joseph Powers
David & Betsy Puelle
Malcolm & Susan Rogers
Maxine Sclar & Robert Yamartino
James & Lynn Shaffer
Marcia & Larry Sharp
Alice & Richard Spencer
Sharon Staz
Michael & Dawn Stillings
John Tewhey
Barbara & Richard Trafton
April Ylvisaker & Jon Tardiff
The following two tabs change content below.
Latest posts by Katie Day (see all)