Ovations Offstage, Portland Museum of Art, and Theater Ensemble of Color come together to bring Ashley Bryan's lauded storybook, Beautiful Blackbird, to the stage. Inspired by a traditional story from the Ila-speaking people of Zambia, Blackbird tells the uplifting tale of the only bird in the forest with any black feathers. When the other birds agree that he is the most beautiful bird of them all, they sing, "Black is beautiful, UH-HUH!" The story's important racial metaphor promotes tolerance and self-love, and this production empowers and entertains even our youngest theater-goers. This performance is in conjunction with the Portland Museum of Art's exhibit, Painter and Poet: The Art of Ashley Bryan, on view in the fall of 2018.
This unusual and little-known pourquoi tale [is] a thoughtful and entertaining addition to units on self-esteem."
— CAROL ANN WILSON, SCHOOL LIBRARY JOURNAL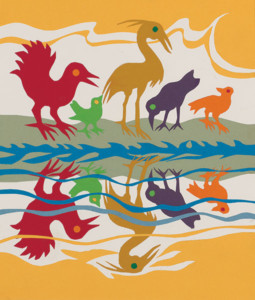 This performance travels and is available to perform at your school.
IMAGE | Ashley Bryan, "The birds' colors were mirrored in the waters," circa 2002, from "Beautiful Blackbird." The Eric Carle Museum of Picture Book Art, Amherst, Massachusetts.