"What we're doing," playwright and SurvivorSpeakUSA founder dee Clarke said in regard to THE LAST GIRL, her play-in-development, and her advocacy work, "is putting the last girl first. And we're survivors leading the way." 
The Last Girl: the one whose life is unseen by others. The girl who, due to her gender, race and class is the one about whom no one cares.
The last girls live right here amongst us in Maine. According to Survivor Speak USA, they often grow up to be Forgotten Women, walking the streets of Portland, Lewiston, Biddeford and Bangor in chronic survival mode, remaining "on the track" of sexploitation without access to needed services.
In her play THE LAST GIRL, Ms. Clarke recounts, with the support of director René Goddess Johnson, dramaturg Maya Williams, and a cast including fellow survivors, her own story of trafficking, sexploitation, survival, healing and advocacy, bringing these important and often overlooked conversations to theatrical audiences.
Ms. Clarke moved to Maine more than four decades ago, after having been sexually trafficked as a child in Boston's "Combat Zone."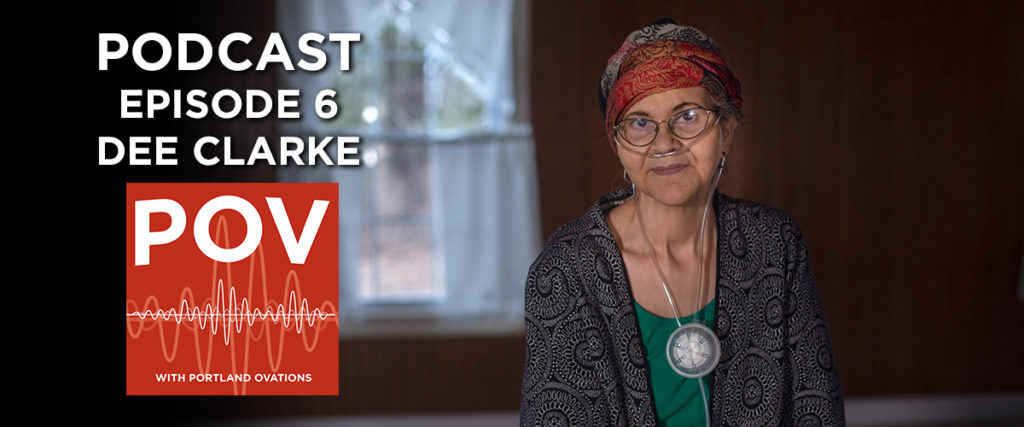 Her struggles did not end immediately in Maine. Yet Ms. Clarke has been advocating for women and children in poverty and homelessness for more than 20 years; and for the voices and rights of survivors of sex trafficking and sexploitation for the last seven. 
The Last Girl is a term adapted from Ruchira Gupta, a journalist and activist who founded the NGO Apne Aap Women Worldwide in Mumbai in 1996 while creating an Emmy Award-winning documentary, The Selling of Innocents. Ms. Clarke traveled to India in 2017 to meet with and connect her work to Gupta's.
At the end of Ms. Clarke's play, the narrator points out that little has changed for last girls and forgotten women in 40 years.
"Putting the Last Girl First," Ms. Clarke says, "means addressing the lives of Black, Brown, Indigenous and trans girls and women first. And Survivor Speak is the only one doing that."
Hear dee's voice directly in our recent POV Podcast episode as part of our series on Ovations' commissioned Maine artists. The POV Podcast is available on Spotify and Youtube.