This year, we've been building a Bridge.
And now that Bridge, with its strong Towers and gleaming Trusses, is standing solid.
The story of this Bridge began last March, when, along with the rest of the world, Ovations found ourselves teetering on the edge of a perilous precipice.
On Friday, March 13, 2020, as we prepared for a panel discussion on art and the impact of climate change in Maine and performances by the multidisciplinary artist MiwaMatreyek, the State of Maine closed down businesses and schools in an attempt to stop COVID 19.
Ovations canceled the rest of our season and refunded hundreds of thousands of dollars in ticket revenues. We are deeply grateful for the loyalty many of you, as you were able,demonstrated in generously donating these tickets.
Miwa Matreyek. Photo by Scott Groller
As a nonprofit performing arts organization approaching our 90th anniversary in 2021, we immediately took action. Staffing was reduced, positions frozen, workers furloughed. We gave up our offices in Monument Square and applied for and received relief funding. And we launched the Bridge Campaign, an effort to raise $325,000 in extraordinary funding to help carry us through this time.
The most important thing, we knew, was to fortify our 90-year legacy so we could reinvent our mission-focused programs in the future: performing arts experiences that bring us together and that further and support our cultural, social, and economic well-being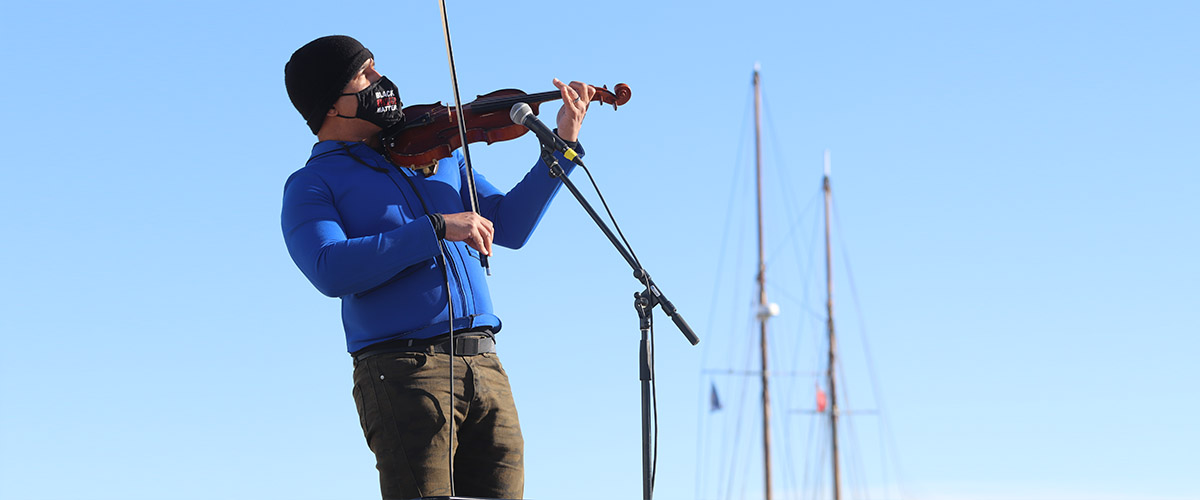 Daniel Bernard Roumain. Photo by Linda Nelson
While we were building this Bridge, we were simultaneously moving across it, creating entire series of re-imagined programming: Performances in Your Parks. Seeking Resonance. Interactive digital offerings for young audiences in schools and at home. A commissioning program for Maine artists. And our #OvationsExperience series of digital performance experiences from around the globe.
Here we are. We can now almost make out the far embankment, can see our Bridge as it nears completion on what was once a distant shore. We owe our Bridge to the incredibly hard work of Board and staff; federal and state recovery funding flowing through regional and local agencies; and mostly to YOUR passionate commitment. As Maine individuals and businesses, you rose to support Ovations—and with it, Portland's thriving arts culture and quality of life. To see who makes up our Towers and our Trusses, click here. We give you all our gratitude, and a standing ovation!