Posted Monday, June 1, 2020
The end of the school year is a time for reflecting. Today's activity, Alphabet Relay, is an energetic way for kids to reflect on this unique school year – from what was challenging to how much they've learned and discovered.
DOWNLOAD THIS ACTIVITY AS A PRINTABLE .PDF
EXAMPLES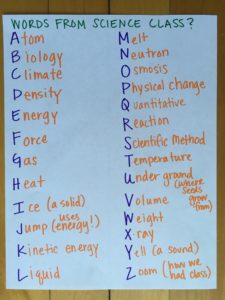 I learned Alphabet Relay from Katie Dawson at UT Austin. You can see a longer description of the activity in the link below from the Drama-Based Instruction website created by Drama for Schools at The University of Texas at Austin.
Alphabet Relay: https://dbp.theatredance.utexas.edu/content/alphabet-relay
These activities are curated by Sarah Coleman, Portland Ovations' Director of Engagement l School Programs. Sarah is a theatre educator, an arts integration specialist, and a former classroom teacher who has taught students in grades K – college as well as led professional development workshops for teachers around the country for over 15 years.