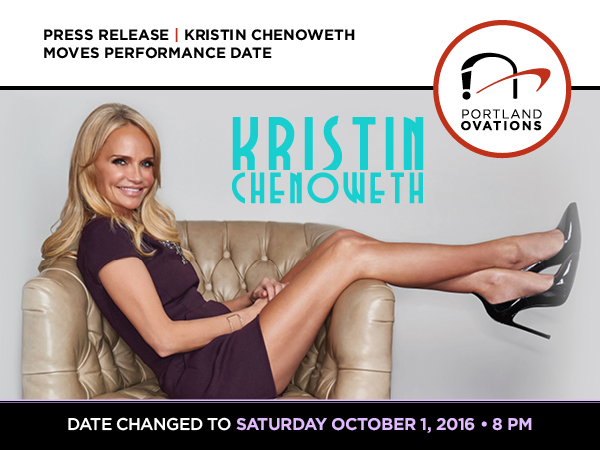 Kristin Chenoweth Moves Performance Date with Portland Ovations to Saturday, October 1, 2016
June 16, 2016
FOR IMMEDIATE RELASE
---
Contact: Charles Kibort, Director of Marketing & Audience Development at ckibort@portlandovations.org for high-resolution photography and more information.
PORTLAND, Maine – Portland Ovations just announced "An Intimate Evening with Kristin Chenoweth" is moving to Saturday, October 1st at 8 pm at the request of the artist.
"We do not like to change dates, even this far out, but we want to accommodate our artists whenever possible. We hope Kristin's fans will be pleased with the Saturday date and make a night of it in Portland!" Explained Portland Ovations Executive Director Aimée M. Petrin.
Previously scheduled for September 29th, tickets for "An Intimate Evening with Kristin Chenoweth" at Merrill Auditorium go on sale to the general public Monday, June 20th. Tickets are $100, $75 and $65. To purchase tickets, contact PortTix at 207-842-0800, visit the box office window at Merrill Auditorium or go online at www.portlandovations.org.
Save
The following two tabs change content below.
Latest posts by Sarah Prak (see all)