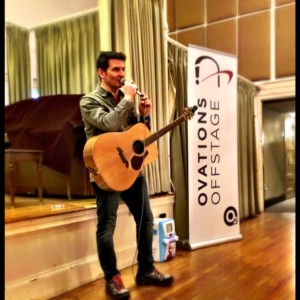 by: Adam Gardner of The LeeVees & Guster | December 13, 2016
I'm thrilled to be performing with my Hanukkah project, The LeeVees at Port City Music Hall this Sunday as part of Portland Ovations! My wife and I became Members of Portland Ovations when we moved here 12 years ago.
How It All Started
The LeeVees were born out on tour with my main "day job" band, Guster. Friends of ours in a hockey-themed band, The Zambonis, were opening up for us. Dave Zamboni and I were talking one day on the tour bus when we realized we were both Jewish.
The conversation quickly shifted to how many other Jewish rockers there were out there from Joey Ramone to Neil Diamond.
"How come, with all these Jewish musicians, there aren't any decent Hanukkah songs being written?" Tons of Jews from Barry Manilow to Bob Dylan have put out Christmas records and some of the best Christmas songs were written by Jews like "White Christmas," by fellow Semite, Irving Berlin—what gives?
After listing more and more Christmas albums and songs by Jews and coming up empty when trying to think of great Chanukah songs, besides Adam Sandler's, Dave and I reached for our guitars and started writing. At first, just for fun and to make sure there wasn't some weird collective writer's block preventing Jews from penning Hanukkah songs.
We discussed how it felt to be missing out, as Jewish kids growing up in mostly Christian populated schools, on the splendor of all things Christmas. Both of us as adults identified as Jew-ish, with the majority of our Jewish experience and identity wrapped in food, family and fun around the holidays.
A Hanukkah Miracle: The LeeVees!
Songs like "Applesauce vs. Sour Cream," "At the Timeshare" and "How Do You Spell Channukkahh?" came pouring out. We were laughing and enjoying the freedom of writing for only our own amusement, outside the pressures of a "real band."
We had only a week left of touring together and we committed to writing an album's worth by the time the tour was over. I sent a couple of the song ideas to Guster's management and some friends that ran a Jewish label. Next thing we knew, after 8 days of writing and a couple phone calls, Warner Brothers wanted to put it out—a Hanukkah miracle!
Even though we were only relevant a couple weeks of the year, The LeeVees have enjoyed some big highlights since Hanukkah Rocks released–from performing with the Boston Pops at Symphony Hall to touring with the Barenaked Ladies across the country to NPR's Bob Boilen calling it the best holiday album of the decade (what?!?).
Eleven years after that first conversation in the back of a tour bus, The LeeVees hold a special place in my heart because it's still just a bunch of guys getting together for a handful of shows a year to enjoy the freedom of amusing themselves and loving the thrill of seeing others young and not-so-young, non-Jews and Jews, friends and yet-to-be-friends having fun right along with us.
The following two tabs change content below.
Latest posts by Adam Gardner (see all)