Arts Integration Professional Development Workshops
Portland Ovations offers free & virtual professional development for teachers of grades PK – 12th.
These arts integration workshops are grounded in drama-based pedagogy, an embodied way of engaging students in academic, aesthetic and affective learning through theater and improvisation strategies. These sessions will help get your students up and moving active in and dramatic ways. All workshops can focus on virtual or socially-distanced classroom spaces. They work best for up to 20 participants. Each workshop is 1-2 hours in length or can be linked together as a series.
For information contact Sarah Coleman at scoleman@portlandovations.org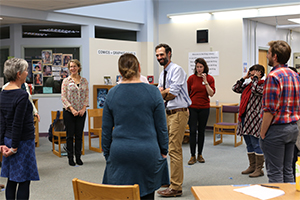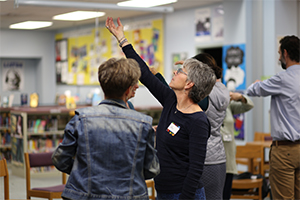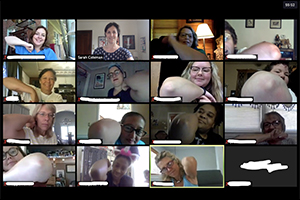 Active and Dramatic (Virtual or Socially-Distanced) Classrooms
Using a variety of arts strategies, teachers will practice embodied ways to engage students, across all areas of the curriculum, in sharing their knowledge and perspectives. With each strategy, we'll talk through the role of reflection, classroom management, and additional applications.
Building Classroom Community from Six Feet Apart
This workshop shares arts integration activities focused on building community in your classroom with a new group of students. These socially distanced strategies help students get to know each other, engage in movement, and have fun together.
Building Classroom Community Virtually
This workshop shares virtual arts integration activities focused on building community in your classroom with a new group of students. These strategies help students get to know each other in the virtual space, engage in movement, and have fun together
Tableau in the Classroom
Through the use of image work strategies (stage picture, tableau, statues, etc.) teachers will discover the many ways to use these strategies across all areas of the curriculum. This session will focus on how to "read" the images created which support literacy development and deepens classroom engagement and discussion around the curriculum focus.
Vignettes of Knowledge
Through drama-based strategies teachers will learn how to create short "performances" that allow students to share unique experiences and perspectives with their classmates. This lesson plan can be used as a way to get to know students better, in connection with specific curriculum, or as a form of formative assessment.
Embodied Learning in the Multilingual/ELL Classroom
This workshop shares drama-based strategies that support language development in the multilingual or integrated classroom. It focuses on how to introduce strategies so all students can participate and share their knowledge through movement and verbal language.
About the Instructor
Workshops are led by Sarah Coleman, Director of Engagement at Portland Ovations. Sarah has been teaching for almost two decades as a classroom teacher, university lecturer and teaching artist, and has worked with students from pre-kindergarten to college. She has led professional development workshops in theater, drama-based pedagogy, and arts integration for teachers across the United States and internationally. Sarah grew up in Portland and started her performing arts career with Mad Horse Children's Theatre. She has worked on numerous productions as a producer, director and dramaturg in Washington, D.C. and Austin. Texas – focusing on new work and theatre for young audiences. Her scholarly work concentrates on drama-based pedagogy/arts integration, embodied learning with English language learners, and justice based pedagogy in classrooms, rehearsal rooms, and onstage. She has presented at many national conferences including American Alliance for Theater & Education (AATE), Association of Theater in Higher Education (ATHE), and International Drama in Education Research Institute (IDIERI) as well as published academic articles on these topics. Sarah has a MFA in Drama and Theatre for Youth and Communities from UT Austin.
"She is really jump-starting my thinking and helping me to change / improve my teaching strategies. Thank you!" – Elementary Teacher
"The kids at the gym thought some of the activities were so fun, that they stopped to check out the fun!" – Middle School Teacher
"I get antsy in a group of people being asked to do something out of my comfort zone but it was very informative and I got past my own unease and enjoyed the workshop very much." – Middle School Teacher
Key Words/Phrases
Arts Integration: An approach to teaching in which students construct and demonstrate understanding through an art form. Students engage in a creative process which connects an art form and another subject area and meets evolving objectives in both (The Kennedy Center, 2010).
Drama-based: Meaning the activities are theatre and improvisation games that have been used in classroom spaces for decades.
Active and Dramatic: Meaning the activities involve physical movement and/or invite students to use their imagination to deepen their connection to the knowledge.
Embodied: To represent (an idea, quality, or character) in a physical form.