Witness the struggle and sacrifice for civil rights in America in this compelling story presented by Living Voices, who return by popular demand for the fourth consecutive year to our School-Time Performance Series. The Right to Dream follows a young student named Raymond, recreating his coming of age as an African-American in Mississippi during the 1950s and 1960s. This program illuminates the issues of civil rights, leading audiences to understand how the fight against prejudice has shaped our history. As part of Ovations' on-going partnership with the Abyssinian Meeting House, we will offer both professional development and in-school workshop programming.
"Living Voices was one of the best assemblies we have had — relevant, educational, moving and inspiring for students and adults."
— LIZ BARNITZ, EL CAMINO SCHOOL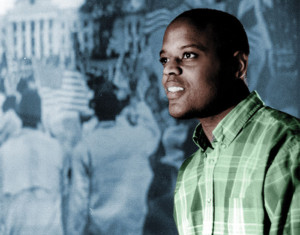 This performance travels and is available to perform at your school.