Performing in pointe shoes and tutus takes its tole on an aging body. Many dancers are familiar with the repercussions of a life of performing. The members of 'Les Ballets Trockadero de Monte Carlo'  the all male drag ballet company, who perform on pointe with custom shoes face unique challenges to their bodies as they age. In advance of their March performance, a panel of dynamic presenters will address the topic and explore aging and health in LGBTQ communities in a discussion presented by The Interprofessional Education Collaborative at University of New England.
This free and public event will be held at UNE's Portland Campus and live streamed to their Biddeford Campus. Light lunch will be provided.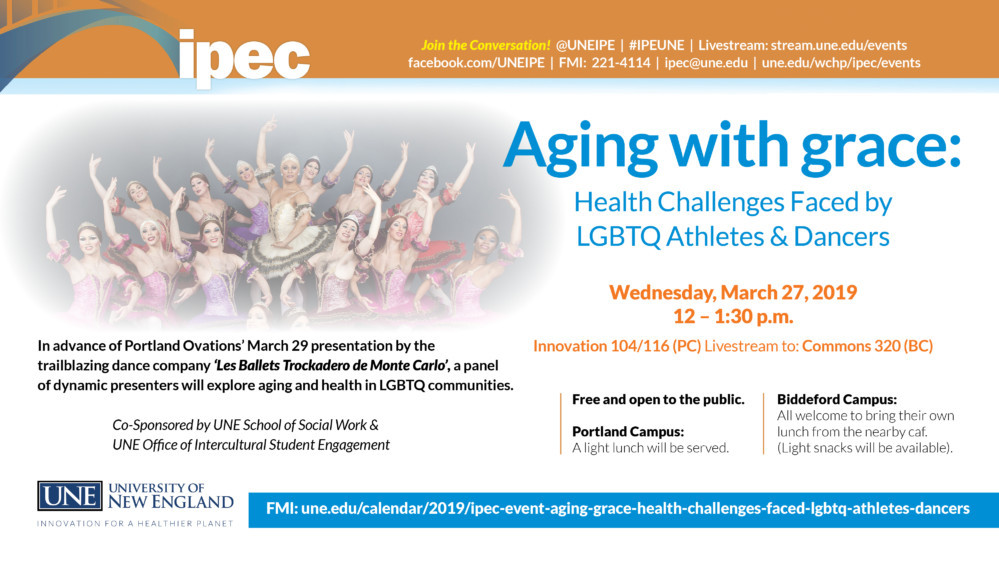 For more information about Offstage activities, please call 207.773.3150 or email offstage@portlandovations.org.
NEED DIRECTIONS TO UNE PORTLAND CAMPUS?
Driving to Bishop St. Parking/Shuttle to Campus:
UNE operates a shuttle bus* continually between Portland Campus and the Bishop St. Extension Lot (in Portland), Mon-Fri, 7 a.m.–7 p.m. Wait time: Fewer than 10 minutes. 
From Warren Ave: Turn onto Bishop St. (about ¼ mile from the intersection of Warren Ave. and Forest Ave.)
From Forest Ave or Stevens Ave: Please note you cannot turn left onto Bishop St. from Stevens Ave. or Forest Ave. going north. Proceed to the intersection at Warren Ave. and turn left. Bishop St. is about ¼ mile down Warren Ave.
*The shuttle bus that transports to Portland Campus from the Ext. Lot is a small, unmarked bus. The larger, UNE-branded bus transports passengers back to Biddeford Campus. Please ask Bus Driver to confirm if you are unsure.