A groundbreaking online performance for children that explains what racism is, how to know it when you see and experience it, and ideas for what you can do about it. This new work is adapted and directed by award-winning director and TYA artist Khalia Davis and is brought to life by an entirely Black and BIPOC cast and creative team from across the United States. A Kids Play About Racism utilizes theatre to offer young children and families a way to engage in meaningful conversation about race. As part of the production, educational materials developed by Seattle Children's Theatre in collaboration with the Northwest African American Museum extend the experience and enhance age-appropriate engagement.

HOW TO PARTICIPATE
Click the register link  above and you will be directed to the webpage where you can sign up to receive access to the free 30-minute performance. Be sure to check out the Active Audience Guide to support discussions and activities in your classroom before and after the performance.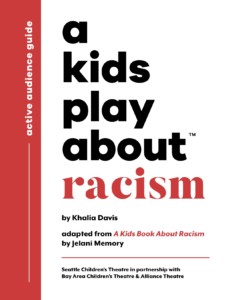 Click the icon above to download the Active Audience Guide!
ABOUT THE BOOK
The play is based on the book A Kids Book About Racism by Jelani Memory.
You can preview the book below.